Rio Danta Restaurant & Private Reserve

Rio Danta Restaurant and Private Reserve is located within the boundaries of the famous Braulio Carrillo National Park, in a rain forest mountain range, just 45 minutes from San José. Surrounded by 20 acres of magnificent gardens and tropical trees overlooking the Danta River and paths along the river. The diversity of environments in this area is amazing and there are several interesting attractions near the Lodge like the Forest Aerial Tram at Braulio Carrillo National Park, The Heliconias Farm, The EARTH Station, banana plantations and others.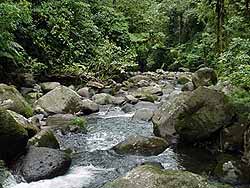 Facilities include a bar, a plentiful family style restaurant, which include typical Costa Rican and Caribbean foods and international cuisine and marked natural trails for tours. You have the opportunity to experienced the modest elegance, the tranquillity of the Rio Danta Restaurant, and its beautiful surroundings. Enjoy this unique opportunity to capture the wonders of Costa Rica's natural kingdom.
Meals
Breakfast: $4.00
Lunch: $5.00 & $9.00
Services
Trail Fee: $4.00 (2 hours maximum)